I'm writing this just as I'm coming up for air after the launch week for my new book, Life Profitability.
Much of January was focused on preparing for launch week: recording some early podcasts to go out in launch week, creating marketing collateral that could just be published in launch week etc.
One would imagine the hard part of writing and publishing a week was the 15-month process to create the book. Inevitably the final stretch and post-publishing activities required just as much investment of time, energy and attention.
Launch week was a success though (I shared some details in my previous newsletter) and it's been fun to see the ideas of Life Profitability resonating out in the wild:
I'm still focused on promoting the book and have already recorded a bunch of new podcasts and interviews this week (here's some that have been published) to continue the drumbeating of the ideas I've captured in the book. The cadence for this is shifting though, which means my primary focus again is back on Cogsy.
What has happened to Cogsy in the last 3 months?
Yes, it's been almost 3 months since I last shared anything about Cogsy.
A couple of personal things contributed to my lack of sharing. I actually had COVID at the beginning of November and it ended up wiping up most of my month, where I just felt crappy, lacking energy and motivation. December is summer holiday time in South Africa, which always means less work (and this past December I actually managed to disconnect from work stuff really well). And then January was a balancing act between the book and pushing Cogsy forward.
At times it has felt like we should've made more progress on Cogsy by now and that things were a little in limbo. Truth though is that the team I'm working with to build V1 has been making solid progress independent from what was going on for me. And that whilst there is a couple of things that I could've worked on too, the most important goal (getting V1 production-ready) was getting the attention it needed.
So a couple of headline updates on Cogsy to make up for some lost time:
First Customers
As of this morning, I'm happy to report that our V1 pilot is up-and-running and that our private Shopify app is now installed on two live stores of our early adopter customers.
These are customers that I had already lined up in November and were happy to commit to a discounted pilot program as an exchange to be early adopters. Having those early adopters also means that as we onboard the first handful of customers this week, we immediately hit ~$1k MRR.
Our (private) pilot strategy (on which I'll probably do a deep dive in a subsequent post) is focused on only our ideal-fit customers and a high-touch approach (that leans towards being consultative) to ensure that we are truly valuable for the first 3 or 4 customers. Then adding a few to get to 10. All the while iterating on our V1 to get to some measure of initial product-market fit before our public launch.
Fundraising
I've also spent a good chunk of my time putting together a small, pre-seed round of funding that we're raising for a very specific type of investor. We really wanted to be strategic with this and have limited the pre-seed round to founders who have either built software for Ecommerce brands or built an Ecommerce brand themselves. (And naturally, having individuals who share our values is an integral part.)
I'm excited to share more about this as soon as the i's are dotted and the final t's are crossed.
Growing the team
I'm also super excited to have added Sisanda to the team. She's an incredibly talented, young designer and we've already kicked off the work on updating our marketing website (and truly making our brand guidelines come to life).
A big part of getting the new marketing website out there will be focused on updating our positioning for the product, which has evolved a lot with the various conversations I've had with customers, prospects in other smart people in our space. The new marketing website will also mean kicking off our content strategy.
(We're looking to grow our product & engineering team. If Cogsy sounds like a great opportunity for you or someone you know, please get in touch.)
My Life Profitability
The last two weeks have definitely been a challenge of many of the ideas that I propose around life profitability and work-life balance (which I don't think is a good solution). And admittedly I didn't always get it right.
What I'm proud about though is that I've maintained my awareness of when things get out of balance, which means I can course-correct to re-orientate my focus and priorities to my highest personal values. I also know that making progress on Cogsy and publishing the book are two stocks in my life portfolio and that the last couple of weeks has seen a big investment into those.
At the same time, I think I did a pretty good job of also investing in my health and sleep (which are other stocks in that life portfolio of mine):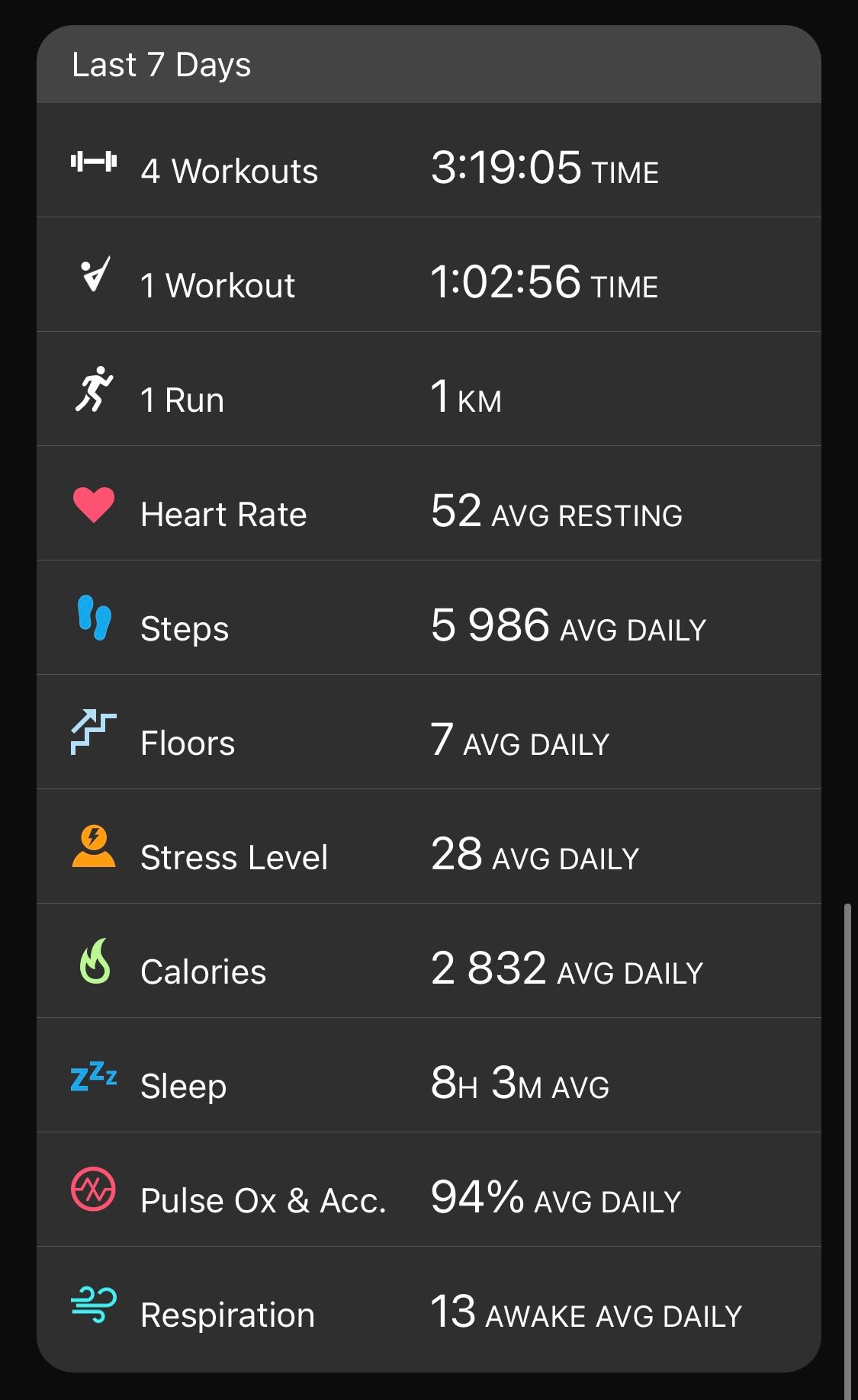 (That one 1km run there was my first run in about a month having re-injured my ankle on which I had major surgery about 2 years ago. I've done another 3km run, but have no idea whether my ligaments are borked again. 🤷‍♂️)
What I've realised in the last couple of weeks when I've spoken with people about life profitability, work-life balance, my personal values and why I'm building Cogsy in public is that I'm really hoping for some accountability here.
A goal for me in every new venture that I've embarked on, has been to take my past learnings and ensure I'm doing things in a better way than before. That thirst for learning is one of my personal values.
And with Cogsy, I'd love to continue that learning and iteration in a way that showcases how life profitability plays out for me.